Covid-19 And New Crime Trends
On Wednesday 20th May 2020, Dr. Isidore Kwadwo Tufuor, Lecturer and Head of the Private Law Department at the GIMPA Faculty of Law, delivered via Zoom, the third edition of the GIMPA Law and Ethics Web Series on the theme: 'COVID-19 and New Crime Trends'. This session was moderated by Mrs. Maame Yaa Akyiaa Barnes, a Law Lecturer at the Law Department of Lancaster University Ghana.
Ghana like many other countries has responded to COVID-19 by introducing measures such as self-isolation, quarantine, social distancing and a partial lockdown, which has caused a steady decline in violent crimes that occur in the public space. However, there has been a corresponding rise in crimes of a domestic nature, fraud and cyber-crimes, which may be easy to understand from a criminology perspective.
That notwithstanding, the obligation of States to protect their citizens during public health emergencies such as the present Coronavirus pandemic, has meant that many States, including Ghana, have invariably and as a matter of urgency interfered with the civil and political rights of their citizens and other nationals within their territorial jurisdiction. To add to this, there has been the criminalization of certain acts, to serve as a means of ensuring compliance with the measures aimed at halting the spread of COVID-19 in Ghana.
The punishment for these crimes is however not commensurate to the offences, since necessity may lead to infraction of such laws. It is therefore suggested that for the Criminal Law to serve its purpose under our current circumstances, it should be backed by socio- economic interventions i.e. the provision of basic amenities, to aid compliance.
The COVID-19 era is also an opportune time to consider alternatives to custodial sentences such as community service and probation service. The threat of Bio-Terrorism as well as cyber-crimes also mean that the Criminal Justice System has to adapt to these new trends of criminality by being aware, better resourced and prepared to combat such crimes.
Download the GIMPA Law & Ethics Policy Paper Vol.1 No.3 here: https://ghanalawhub.com/wp-content/uploads/2020/06/GIMPA-Law-Ethics-Policy-Paper-Volume-1-Issue-3.pdf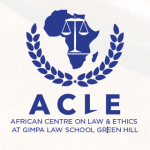 The African Centre on Law and Ethics (ACLE) at the GIMPA Faculty of Law is a research, scholarship and training center established in 2017 to facilitate the growing commitment to law and ethics on the African continent.
Contact the ACLE at acle@gimpa.edu.gh